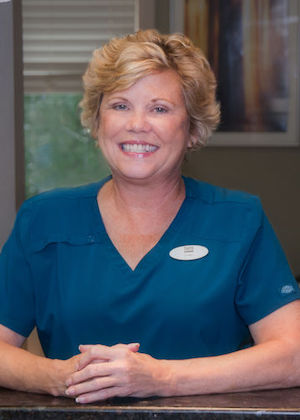 Debby
Payroll Clerk / Almost Retired
I have worked on Dr. Wolfert's dental team for 30 years! In that time, I have watched 5 year old patients grow up, get married, and bring their own kids in for treatment. My joy has been to make their dental experience as relaxing as possible by putting many birdfeeders outside of our office window along with plants and of course corn for the squirrels! Patients have a wonderful time watching the birds fly up to the window, it's like a ballet!
When patients walk into our office they are greeted by their name and made to feel welcomed immediately. I've experienced walking into offices and feeling like an intruder. That's not going to happen here!
I have taken many courses over the years to improve my knowledge of Dental insurance in order to help patients utilize their benefits to the max. I've enjoyed meeting new patients and helping them get through their treatment plans one year at a time, using their insurance and creating payment plans, etc. I enjoy watching these tenacious patients coming back year after year and finally hearing Dr. Wolfert say "That's it, you are finished, and you met your treatment goals."
Now it's time for me to step back and allow Beverly to take the practice to a new level. Her expertise and solid background should serve Dr. Wolfert well in the upcoming years. She deserves this opportunity after working many years with me.
I have not completely "retired". My new puppy Maggie and I still come in at noon every Friday to make sure the payroll is accurately entered for all my family here at The Toothboss. If you're nearby, please stop in and say "Hi", I'd love to see you!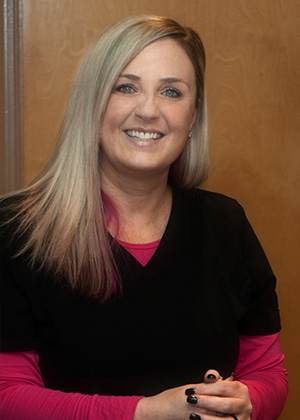 Beverly
Office Manager/Dental Assistant
I have been a part of Dr. Wolfert's team since 1999, although taking some time off here and there to have and raise my 3 sons. After several years I decided to see if Dr. Wolfert had any part time openings on his team, I missed my Dental Office Family! I started with a few hours and now I am full-time and can't imagine working for anyone else.
I enjoy assisting patients in achieving optimal dental health and the smile they deserve. I do this by helping patients comprehend and maximize their insurance as well as creating payment plans that fit their budget. I love the life-long relationship I have developed with our patients and our team.
I feel fortunate that Dr. Wolfert had enough confidence in me to make me the Office Manager of The Toothboss. After many years of tutelage with Debby as my mentor, I feel I am ready for the challenge.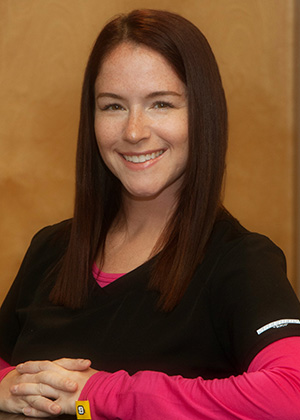 Michaella
Hygienist
Michaella is a graduate of Bristol Community College and has an associate's degree in dental hygiene. She also worked as a hygienist at a pediatric dental practice and oftentimes utilizes the skills she developed there in our practice. In college, Michaella worked her way through school as a manager of a movie theater in East Bridgewater.
Michaella tells us at The Toothboss she loves working with Dr. Wolfert and the rest of the team. She appreciates all her patients and works very hard at making every one of them feel comfortable and free from the stress usually associated with coming to the dentist. Michaella has a natural rapport with our patients and has become a favorite of several of our regulars. She loves educating patients and takes great pride when patients improve their oral hygiene and overall dental health based on her instruction.
Michaella has been wonderful to work with all these years. She is an excellent hygienist whom is very skilled diagnostically and clinically.
A lifelong Bridgewater resident, Michaella now lives with her husband Derek, a pharmaceutical rep in their new house in Raynham. They have a four-year-old boy, Camden and a two-year-old girl, Kennedy.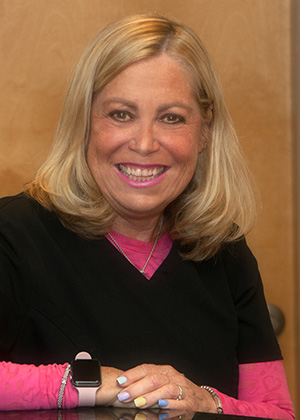 Donna
Hygienist
Donna worked at the Toothboss before it was the Toothboss in the 1980s as a dental assistant when the practice was owned and operated by Dr. Armen Nalband. She returned in 2018 to work as Dr. Wolferts' dental hygienist. A graduate of Cape Cod Community College, Donna is a well-respected and experienced hygienist. A lifelong Weymouth resident, Donna is active in her church, St. Francis Xavier, as a volunteer and Eucharistic minister. She and her fiancé Mike enjoy their summers living on their boat. In her spare time, she also enjoys the beach, tennis and reading.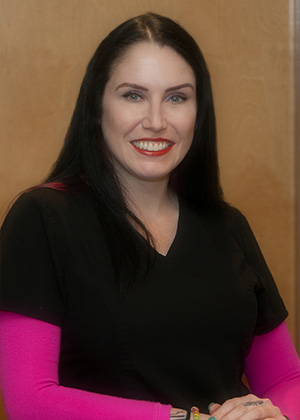 Kristen
Receptionist / CDA
Kristen has been with the Toothboss as our front desk receptionist since August 2020. Kristen is also certified as a Dental Assistant. She is a local, residing in Weymouth with her three children. She's been a welcome addition to our staff.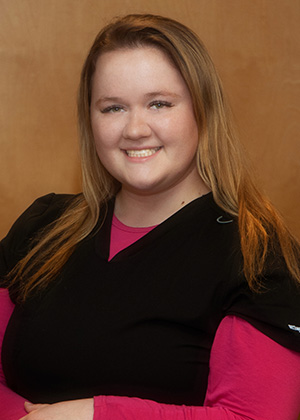 Courtney
Hygienist
Courtney is the newest member of our Toothboss team. She is a welcome addition and has fit in right away with her delightful personality. She is a 2022 graduate of Massachusetts College of Pharmacy and has a bachelor's degree in dental hygiene. Courtney love's getting to know patients and working with them to achieve their best dental health. She chose to get into the dental field largely based on her own experience, which included having orthodontic treatment for six (6) years! A Marshfield resident, she plays the violin, likes music of the 70's and 80's, reading and going to the beach in her spare time.